Paintball Fields Listed By State
Arizona Paintball Fields / California Paintball Fields / Colorado Paintball Fields and Arenas
/ Florida / Indiana / Iowa / Kansas / Michigan / New Hampshire Paintball Fields / New York / Ohio / Pennsylvania / Tennessee Paintball Fields / Texas Paintball Fields / West Virginia / Virginia / Washington / Wisconsin /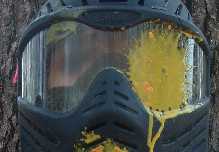 Paintball Safety
Paintball Marker Reviews // Paintball Fields Located U.S.
Paintball Saftey Tips: By Mario and KingBomb or gotoSafety tips from a parent.
1. Keep the barrel cover on at all times.
Kingbomb says, "Except when playing."
2. Paintball Guns are not toys. They are made for one purpose- TO target and cover your friends in pretty colors- of course only when they have the appropriate equipment on like a full face mask, gloves, etc...
Kingbomb says paintball is for, "hurting your friends till they bleeeeeeeed. (and the occasional Tom Krooze)"
Please excuse Kingbomb he does not represent the opinions of this website. He got hit in the back of the head by a paintball and hasn't been the same since.
3. Couldn't find a translation for this one.
4. Safety is also about keeping dangerous friends away from you and your peers. If you have a friend and he is one of those friends that has a paintball gun with C(O·O) aka CO2 hooked up and hopper fully loaded and points it at your head and says "Dude wouldn't it be funny if..". If you have a friend like that (everyone does) a good way to not have him come to paintball is to tell him your group is going to a different paintball field than the one you are actually going to. After a few doses of the classic ditch he is bound to get the message and either change his ways or find someone else's life to screw up.
5. Any person under 14 years of age shouldn't use paintball markers without adult supervision.
King Bomb Says, "Ha. Ha. That's right... FOURTEEEEN."
16. OOOPs Lost count.
The following is a note to parents's from Mario's Mom AKA Old Lady Rambo:
Seriously, Paintball Battles are fun only when proper safety concerns are addressed. Only go to paintball fields and arenas where the following strict safety policies are enforced.
Barrel covers and safeties are on at all times in the common area (Non Battle field). If that rule is not followed by the "rules aren't meant for me type person" then the management kicks them out.
A policy of Full face masks are worn when entering and exiting the battle field and of course while on the battle field.
Make sure the paintball field or arena has at least two refs on the battle field at all times.
Parents watch who else shows up to play as a walk on and if you spot the player that is way to intense ask the ref to keep an eye on him. The refs at quality paintball fields and arenas will usually spot and follow that player anyway.
Paintball is not a contact sport.
The paintball field and arena is strict about paintball markers being calibrated at less then 280 FPS.
Even with equipment on Never point the paintball marker at some ones head especially at close range.
Parents, Paintball Markers /guns are not toys like water pistols. You need to enforce your own strict rules for your child's use of one.

Eye surgeons are reporting having to remove many children's eyes after they have been destroyed by paintballs and airsoft.

Paintball is a great family activity when safety is the top priority. So I suggest buying gear for the whole family, take the manufacturers warnings seriously, and join the fun with your teens!

©atomsfamily.net 2006 All Rights Reserved. No content contained in the atomsfamily.net website including photos may be used or displayed by anyone or any other website without the signed written approval obtained from the atomsfamily.net website's authors.

Extreme Paintball // Paintball Fields in U.S. // PSP CHEAT CODES // XBOX360 Cheat Codes // PS2 Cheat CODES // MotoCrossRacing tips/Tracks info by
Paintball Fields and Indoor Arenas Safety Tips
Always wear a full face and eye mask
Always have the Barrel Covers when Not using Paintball marker
Always have safety on when paintball marker is not in use
Paintball Fields
Look for Paintball fields that enforce strict paintball safety policies
Make sure Paintball field has at least two refs on the field at all times.
Make sure Paintball Field identifies and removes paintball players that are a danger to others on the field
As a family sport parents should play alongside their younger children