HOME Playstation 3



Playstation HOME Editorial May 31st 2008





Home, a virtual world that is one of the most anticipated releases for the Sony Playstation 3 online community since it was annouced. Early 2007, the world recieved a glimps into this Second Life type of 3D full service entertai, avat, si .... it's hard to decide what to call it or even decide how to describe it. It's a place where Gamers can showcase their trophies and gaming videos in their own 3d Space. It's a place where you can create your own sim like person and watch videos and visit other gamers Homes and watch their uploaded videos and listen to their mp3s.



You Can Bowl, play pool, and stream movies right to your tv by entering any one of the many entertainment areas in this virtual online world.


In this world Major gaming industry players such as Ubisoft have their own "pad" for everyone to visit, experience, watch videos, and get the inside scoop on games in development.


This online world, HOME will change online console gaming forever.




Many have been ridiculing Sony for not releasing it sooner but those critics will enter HOME with a jaw dropping, what compliants, deer in the headlights disbelief when they see the finished project. Xbox live acheivements Menu? Xbox Live Store Movie download menu? Wait, what? What's Xbox Live? Xbox Live Still holds some unrevealed cards up their sleeve though. This Next Generation Console War has just leaped from a series of minor pitch battles to a full take no prisoners war.




Home is still in the final phase of beta testing and it is our hope that Sony is patient and resists the impulse to release this amazing 3D gamers world before it's fully tested.




HOME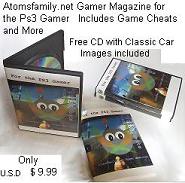 PayPal Payments only.
Atomsfamily.net Gamer Magazine for the PS3 Gamer is an easy to travel with game magazine packed with game hints and cheats as well as articles about the PS3 and PS3 games.The June Edition comes with a Free Cd containing classic car images for you to use to design your own wallpapers etc...