GRID
Unlock the Global License-get all the regional licenses in the game and Earn a million Global Points.
Enter the Following cheat codes in the Cheat Menu to unlock
Unlock all drift cars- Enter TUN58396
Unlock all muscle cars- Enter MUS59279
Unlock the Following liveries
Buchbinder 320si - F93857372
Gamestation BMW 320si - G29782655
Micromania Pagani Zonda R - M38572343
Play.com Aston Martin DBR9 - P47203845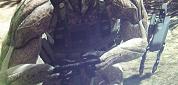 What does snake use to control his robot? He uses a PS3 Sixaxis Dualshock 3 controller.